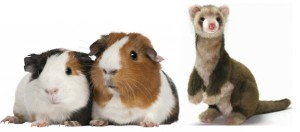 Nous sommes heureux d'annoncer que nous pouvons maintenant fournir des services complets de médecine et de chirurgie à nos amis les petits mammifères.
Nous avons hâte de rencontrer vos lapins, furets, cochons d'Inde, hamsters, gerbilles, rats, planeurs de sucre, hérissons et souris.
Dre. Geneviève Bisson est notre experte de petits mammifère avec plus de 3 ans d'expérience de travail avec eux.

We are pleased to announce that we are now able to provide full medical and surgical services to our small mammal friends.
We look forward to meeting your rabbits, ferrets, guinea pigs, hamsters, gerbils, rats, sugar gliders, hedgehogs and mice.
Dr. Genevieve Bisson is our small mammal expert with over 3 years of experience working with them.