Julie Bereza D.V.M. , Owner, Baker Animal Hospital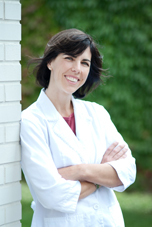 Dr. Julie Bereza was born and raised in Ottawa, Ontario. She graduated from the Ontario Veterinary College in 1997.During her studies, she was an active volunteer in wildlife centers rescuing, treating and rehabilitating injured and orphaned wild animals.
After graduation, she practiced in Toronto and London Ontario. Dr. Bereza joined the team at Baker Animal Hospital in 2001.
She is passionate about working with both senior and young pets and very much enjoys her interactions with their owners. She purchased Baker Animal Hospital in early 2011 and now is also the hospital administrator. When not working, she takes pleasure in eating well, especially if someone else is cooking ,or even better, by exploring Montreal's innumerable excellent restaurants. Her interests include painting and sketching, dance, and traveling. Most of all, Julie enjoys spending time with her two daughters Rachelle and Sophie, and high school sweetheart, Alain, who is now her husband and their fluffy dog Flocon.
---
Suzanne Bertrand D.M.V.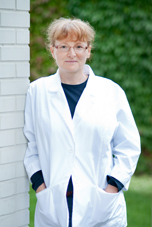 Suzanne is a graduate of the Faculte de Medecine Veterinaire de l'Universite de Montreal. She has been practicing since 1984, joining the Baker Animal Hospital team in 2004. Dedicated to the welfare of animals, Suzanne has also worked as an advisor for the Inspection Department of the Montreal Society for the Prevention of Cruelty to Animals (SPCA), and acted as president of the first Committee for Animal Welfare of the Ordre des médecins vétérinaires du Québec.
Through the years, Suzanne has developed a special interest in pain management, as well as animal behaviour. Aiming to reduce the anxiety so often related to medical exams, she tries to make every visit at the Hospital a positive one. Giving all her patients the best of care in a stress-free environment is her commitment to both the animals and their owners.
When not working, Suzanne shares her life with her spouse of 23 years and their rescued companion Chacha the cat.
---
Our Support Staff
Jane Sykes, Senior Veterinary Technician
Jane started working at Baker Animal Hospital as a teenager and was originally trained as a dog groomer. She demonstrated so much competence working with the animals that she was trained on site as a technician. She has been working as a technician since 1988. She is a master at collecting blood and placing intravenous catheters. She is also an excellent teacher and is in charge of training and evaluating veterinary technician students who come and do work terms at our hospital. She is a multi-tasker and has impressive time management skills. Jane is in charge of ordering medications and supplies for the hospital, monitoring and assisting our patients during surgical procedures, and does the majority of the dental cleanings of our feline and canine patients. She is very gentle with the animals and can tame even the most "unhappy" of patients.
Away from the office, Jane loves to go camping and kayaking with her husband and two children. The head of their household is indisputably a black and white feline named Panda.
Carrie Lerette, front office manager
Carrie joined Baker Animal Hospital in November 2013. She comes to us from her previous employment where she was employed for 22 years. This example of dedication benefits us immensely every day. For example, she has an uncanny capability to work effectively under stress and always strives to provide impeccable customer service. We can honestly say that an octopus has nothing on her for her multi-taking skills are well above sea level! Her love for animals is what brought her to us. Carrie has four dogs of her own and will guarantee you when you come to Baker's, your pets will be treated as one of her own. In her short time with us, she has implemented numerous changes that have continued to improve our client service along with their pet's welfare. If you have any complaints, Carrie will surely help to find a solution.
Lily Fraser-Eldridge, Animal Care Assistant and Receptionist
Lily joined the team in the summer 2018, and has embraced every aspect of animal care ever since. She will be happy to jump in to help you with whatever you need and ensure that your pet receives plenty of attention and care.
Lily moved here from BC and is currently completing an honours degree in Ecology from Concordia University. Her long standing passion for all animals drove her previous volunteering experiences with many wildlife rescue organizations; caring for injured wild birds and small mammals. She has also been a patient foster parent for cat and dogs of all ages and needs.
While she is not running around the clinic, Lily is at home with her rescue cat, Angus, a moody but lovable grey tabby who came into her life from working at Baker's. She also loves gardening, experimenting with plant-based recipes and exploring the local nature spots in her spare time.
Andrea Cherry, Receptionist
Andrea joined Baker Animal Hospital in February of 2019. She graduated from Mcgill University where she studied Biodiversity and Conservation. She has worked internationally as well as throughout Quebec working with sea turtles, endangered species of frogs, toads and snakes. She has worked alongside Eco-Quartier NDG to help educate and implement more sustainable practices in the community. She has also worked for a pet care company where she did dog walking, dog boarding, and pet sitting.
She is always happy to greet you when you walk in no matter how busy or hectic the day may be. She is great at multitasking and being as efficient as possible. She loves all animals, but especially puppies and will gladly cuddle any of them while you are here.
You may often see her with a white fluff ball ; Petey who is a shih tzu mix that she rescued several years ago. He loves to give kisses, and is always excited to see if there are new friends for him to meet in the waiting room. When she is not working, Andrea is most likely dancing, as she is part of a professional training agency.
Weekend duty support team
Shannon Burns: animal health technician
Kaitlyn butt: receptionist, kennel assistant
Kennel team
Suzana Selak