Baker Animal Hospital
Portrait of a Veterinary Dynasty
Dr. Michel Pepin m.v.
The Baker Animal Hospital: Canada's pioneer veterinary institution
In 1866, a Scottish veterinarian named Duncan McEachran arrived in Montreal and opened a small clinic on Craig Street (now Saint-Antoine). A few months later, on the same premises, he opened the Montreal Veterinary College, the first school of its kind in Quebec. Courses were taught there on a shared basis with the McGill University Faculty of Medicine.
In 1875, McEachran moved his veterinary practice to a brand new building specially designed for teaching and the treatment of animals.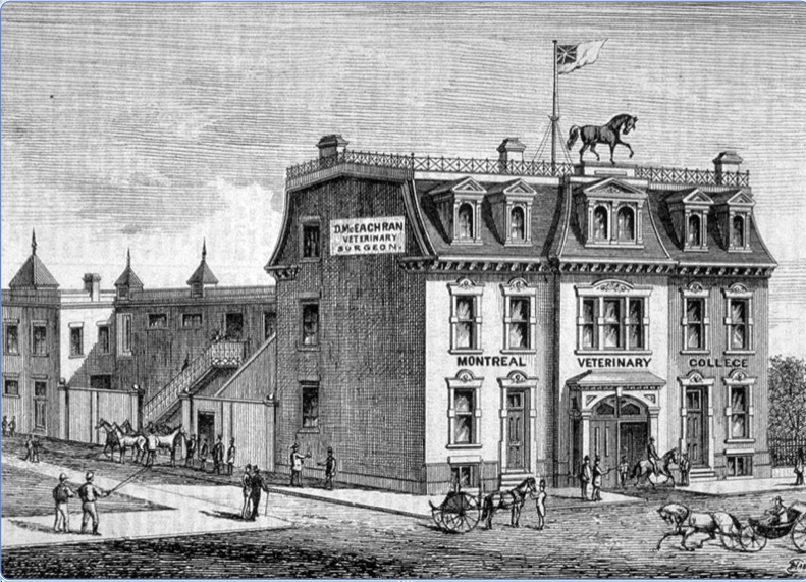 Located on Union Avenue, it was established mainly to treat the thousands of horses that travelled Montreal's streets every day. But the hospital (the most modern such facility in North America at the time) had a distinguishing feature: it was outfitted with rooms and cages to aid in the care of dogs and a few cats
With his school enjoying success and his customer base growing, on May 2, 1887, McEachran went into business with two other physicians: his brother, Dr. Charles McEachran, and Dr. Malcolm Clapp Baker, forming Quebec's first-ever partnership of practicing veterinarians: McEachran, Baker & McEachran. Theirs was a one-of-a-kind operation at a time when there were few veterinarians to start with, and most, either by choice or obligation, tended to work alone.
When they asked Dr. Baker to join them, the McEachran brothers knew they had made a good choice: he had solid experience as a veterinarian, having been in practice since 1879. Indeed, Baker was quite well known; he had taught anatomy to future veterinary students for several years. He was also the federal government inspector for livestock arriving in the port of Montreal, and would go on to be president of the Montreal Veterinary Medicine Association for a number of years.
A few years after the partnership was established, in August 1890, Baker married Mary Lovell, daughter of the famous Montreal publisher John Lovell. In 1897, the couple had a son, Charles B. Baker, who would follow in his father's footsteps some two decades later.
In 1903, problems securing funds and recruiting students forced Duncan McEachran and McGill University to close their veterinary college, which by then had become a full-fledged faculty of the prestigious institution.
Compelled to make choices and find a new career path, Duncan abandoned veterinary practice and, on May 7, 1903, sold his share of the business to his two partners for $2,000.
That same year, Baker had a finger amputated after a horse bit him. Despite this setback, he continued to practice veterinary medicine with passion and determination. A few years later, in 1907, his reputation reached new heights when he was elected president of the Association of Veterinary Surgeons of Quebec (today the Ordre des médecins vétérinaires du Québec). His 21-year reign would prove to be the longest among the 17 presidents who have served at the helm of this professional order since its inception in 1902.
When Charles McEachran died suddenly in 1919, Dr. Baker found himself alone in charge of his hospital. With the only English-language veterinary school in Quebec having shut down, and its French-language counterpart seeking new premises, young Charles Baker left to enroll in the Ontario Veterinary College. He obtained his degree in 1923 and immediately returned to Montreal to assist his father.
The following year, 1924, he married Florence Graper, and in 1925, their first son was born, Malcolm "Mac" Baker. The same year, new grandfather Malcolm Baker gave his son Charles the most wonderful of gifts: an offer to partner with him and move his hospital to better premises.
Charles and his father set up shop in a 1,900-square-foot space on Shuter Street (now Aylmer). There they practiced together, enjoying a close working relationship until the elder Baker died in 1931.

Like his father a few years earlier, Charles was suddenly alone at the head of his business. Worse, Quebec was still laboriously recovering from the stock market crash. For nearly a quarter-century, he continued to care for horses, increasingly rare in the city, while attracting more and more customers with family pets.
Then, like his father and grandfather before him, young Mac Baker decided to embark on a career as a veterinarian, earning his degree from the Ontario Veterinary College in 1950. He married Mary Elizabeth Weber that same year.
In fact he might have begun caring for animals sooner, had he not served in the Royal Canadian Navy during the Second World War. Only after he was demobilized did he enroll at the Veterinary College in Guelph, Ontario.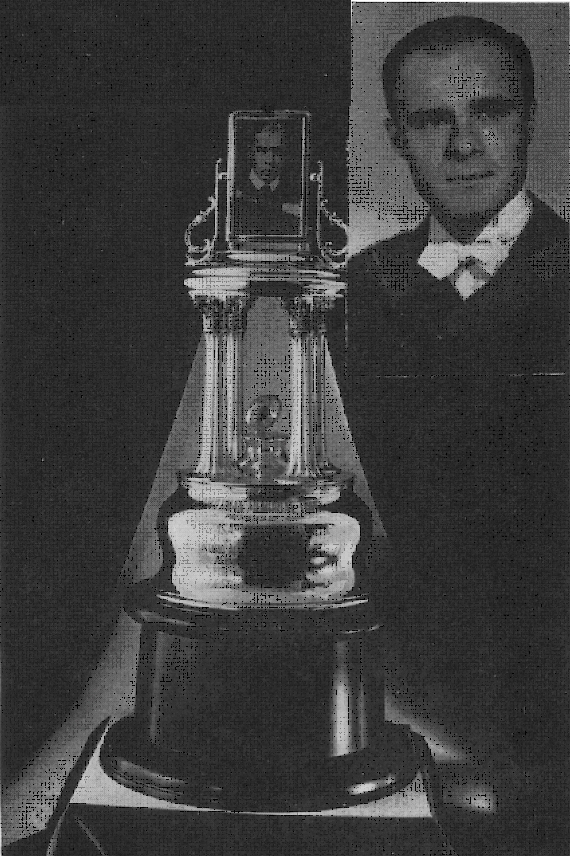 In the meantime, he achieved an exploit as a sportsman, becoming the only veterinarian ever to win the Grey Cup, the Canadian football championship. He managed the feat as a member of St. Hyacinthe Donnacona Navy, a pick-up team of sailors based out of the navy barracks in Saint-Hyacinthe, Quebec. His team beat the Hamilton Wildcats, the defending champions—and the odds-on favorites—on November 27, 1944.
A dedicated athlete, Mac was awarded the Veterinary College's Wildman Trophy in 1950 for his on-field prowess as well as his good sportsmanship. For good measure, he also won the Andrew Smith Medal for academic achievement.
He then went to Colorado State University, earning a master's degree in surgery, and returned with the conviction that the future of the family business lay in pet care.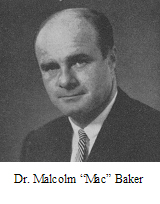 Back in Montreal, he contributed to the development of pet medicine in the city, and helped found the Lower Canada Veterinary Society, which over the years would change its name several times: it was later known as the Montreal Academy of Veterinary Medicine / Académie de médecine vétérinaire de Montréal, and is now the Association des médecins vétérinaires du Québec. Mac Baker played an active role in the organization until the mid-1970s.
In 1956, the Baker Animal Hospital moved for the third time, to 8310 Mayrand Street, where it has remained to this day.
In 1967, in the wake of his father's death on May 6, the younger Malcolm decided to put an end to a long tradition. After having cared for horses for 80 years, the Hospital would now dedicate itself exclusively to canine and feline patients.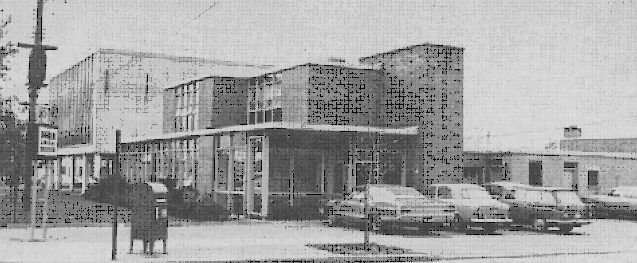 Mac and Mary Baker had three children, John, Linda and Nancy. Believe it or not, Nancy followed in the footsteps of her father, grandfather and great-grandfather. When she was just five years old, she had begun helping her father and grandfather take care of animals, and would go on to earn her degree from Ontario Veterinary College in 1983.
After graduation, Nancy worked for a number of years at the Alta Vista Animal Hospital in Ottawa, Ontario, before joining the team at the nearby Arnprior Animal Hospital in 1990.
Dr. John Malcolm "Mac" Baker was eventually joined by two partner owners: Dr. Hugo Lubbert, in 1963, and Dr. Donald Floyd, in 1976. The trio worked together until 1984, when Dr. Baker sold his share in the hospital and moved to Meaford, Ontario, where he passed away on July 11, 2004.
Drs. Lubbert and Floyd remained partners until the 1990s. On October 31st, 1999, Dr. Lubbert retired and sold his share in the hospital to Dr. Floyd.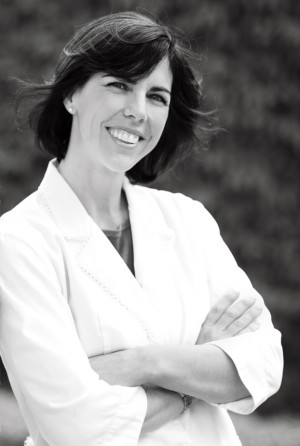 Dr. Julie Bereza joined the team in 2001 and became the sole owner of the business in 2011. Dr. Floyd continued to work for the hospital in a freelance capacity until January 2016.
Today, the Baker Animal Hospital is still very much alive—and, as Canada's oldest veterinary hospital, is proud to keep alive the memory of one of this country's great veterinary dynasties.