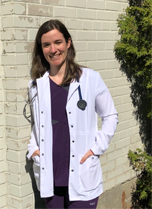 Dr. Emily Hines graduated from the Ontario Veterinary College in 2011. She began her career in Australia, working in a mixed veterinary practice where she treated everything from cats and horses to possums and cockatoos. Since returning to Canada in 2013, she has focused on dogs and cats. She enjoys meeting members of her furry family, young and old, and helping them stay healthy and happy.
Emily grew up in Ottawa, and knew from an early age that she wanted to be a veterinarian. She started by earning a degree in biology at the University of Ottawa. She had some interesting jobs during her studies, including studying lake ecosystems in the Canadian Arctic and tagging puffins on a rocky island off of the East Coast.
She moved to Montreal in 2019 when she joined the team at the Baker Animal Hospital. Outside of work, she spends most of her time with her family. She enjoys reading, jogging and travelling. Emily and her husband are the proud parents of Ruby, a gentle mix of great dane and giant labrador, who was abandoned as a young puppy before she found her way into their hearts and onto their couch.