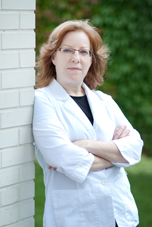 Why she does what she does….
Dogs… Puppy breath; Teacup to giant; Training class honour student or drop-out brat; Einstein or Goofy; Slurpy kisses, snugglilicious!
Cats…"I slink along, target in my cross-hairs, sloww motion, I am an invisible death machine, I..STOP! Lick my leg ferociously!", Headbutts; Vomit on carpet; "Hmmm, what IS that thing?", Purrr… Chirp!; " I'm King of the world!"
Fixes their hurts.
Keeps 'em healthy
Dr. Slodovnick is a graduate of the Faculty de medecine veterinaire of the University de Montreal, class of 1983. She also obtained her MBA from the University of Concordia in 1997.