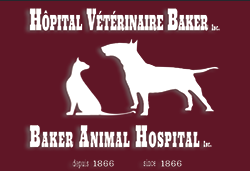 Would you enjoy a flexible schedule, wonderful clients that take good care of their pets, and a dedicated and passionate support staff? Then, do not look any further! The Baker Animal Hospital, Canada's oldest, is looking for a fourth veterinarian to join its team. At Baker's, we serve families that have been clients of ours for generations; which allows us to have wonderful relationships with them. We are looking for a colleague who enjoys working in a team environment and who is not afraid to ask questions or to consult a colleague to ensure the best possible service is provided to our furry friends. Finally, we are looking for someone who is a good communicator, who takes time to explain, who makes follow ups with patients, briefly- a devoted person.
If you have ever considered moving to Montreal, one of Canada's most exciting cities, then please contact us! We offer a competitive salary, benefits, flexible hours, CE and a pleasant work environment.
Dr. Julie Bereza
hr@bakeranimalhospital.com.
More